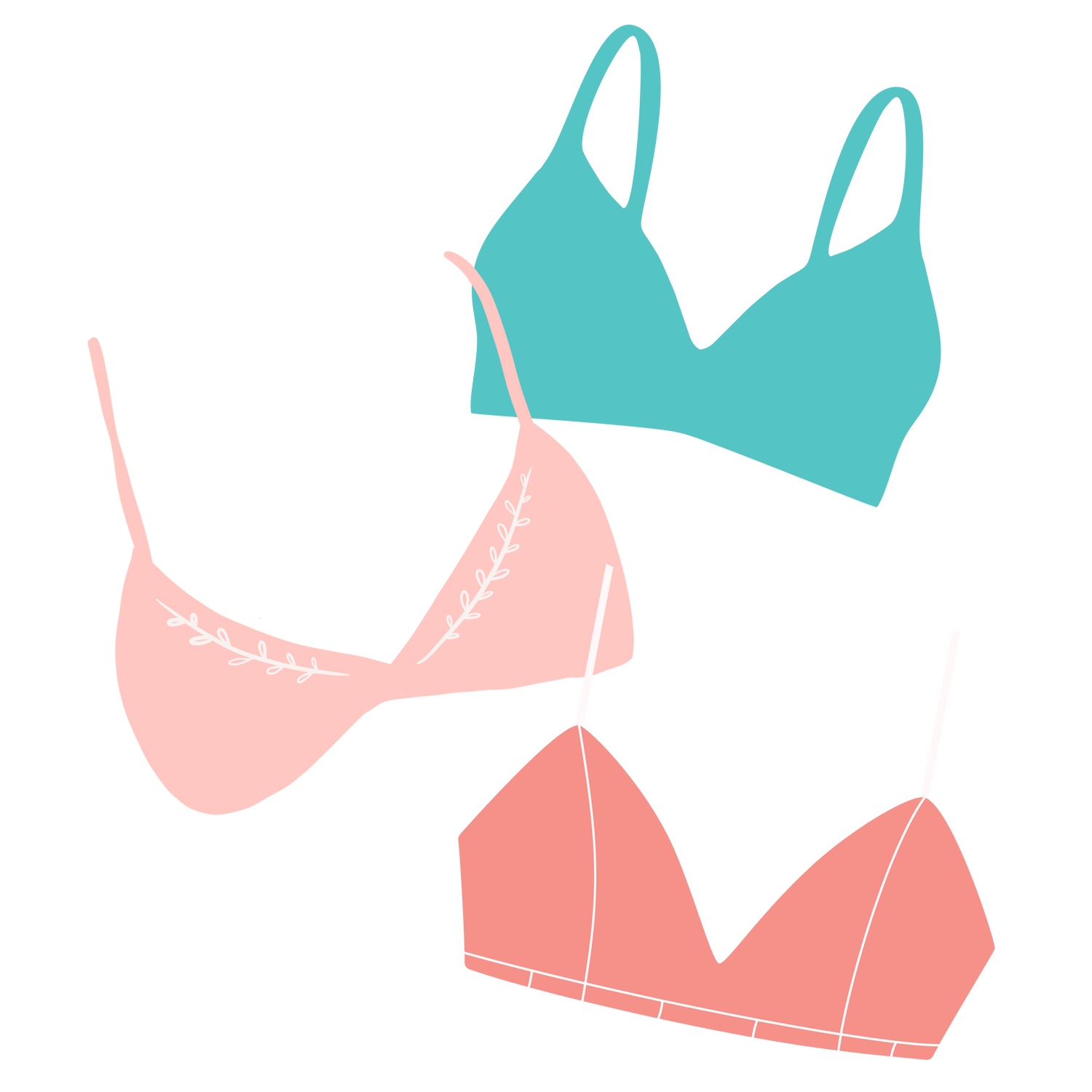 Meet the Bras!
Take a second to read the introductions for each of our Her-Rah! Bras to find the one that best fits your lifestyle and body.
Not sure which bra is best for you? Check out our Style Guide below to learn about the difference between bra styles and what to consider when choosing yours.
The Lily Sport Bralette

For the on-the-go girls! Soft, seamless, performance fabric that fits perfectly under your Jersey. A comfortable bra designed to give you the shape and coverage that you need, without any underwire. Lightly padded, removable foam cups provide flexibility to increase or decrease the support level to what suits you best.

Shop the Collection

The Grace T-Shirt Bra

Hitting the runway in some new, fun colors and an elegant two-tone lace overlay with a wireless design. A very light, removable foam cup provides the extra shape and support you're looking for. The soft cotton base fabric makes this the perfect bra to wear under your favorite T-shirt or in the warmer months.

Shop the Collection

The McKenna Bra

Our most popular bra for many reasons! Designed for more developed bodies with full coverage and the perfect amount of padding; she can be confident in a smooth silhouette while supporting the contour of her natural shape. Petal soft, wireless support that she'll forget she's wearing. You might say, "It's like magic!"

Shop the Collection
What Bra is Right for You?
Our team at Her-Rah! knows just how overwhelming it can be when you're looking for the right bra. Thats why we have created a Style Guide to help guide you through the different bra types and why you might need one versus the other depending on what activity you have planned for the day or what outfit you're wearing! In addition to covering the 'Bra Basics' we will also outline where each of our Bras fall in the spread to help you find the best Her-Rah! Bra for you!
Things to Consider when Choosing your Bra...
Color

A bra's color can also influence your whole outfit! Here's a little bit of a cheat-sheet for picking the right color bra for your outfit.

Nude bras are best to wear with light-colored or thin garments so the color difference won't be too visible. Black or White bras are best to wear with dark colors as they may be easily noticeable underneath a light color or fabric. Fun Colored Bras are best to wear with a casual wardrobe.

Fabric

The kind of fabric used in a bra determines how comfortable you'll be while you wear it. The bra will be in constant contact with your skin, and it will have to absorb sweat as well. Given these considerations, the fabrics of choice are cotton and microfiber, as they're known to be the most comfortable. Here are a few things most women look for in a bra's fabric: Soft touch, Durable, Breathable, and Absorbent.

Style

Many women choose a bra style based on the occassion or types of clothing they plan to wear. For instance, some may prefer to wear Padded or T-shirt bras for the day-to-day to provide a more relaxed feel. Meanwhile, they may choose to wear a Sport bra when they plan to engage in some physical activity. Learn more about some of the different styles of bras and their unique advantages in the section below!